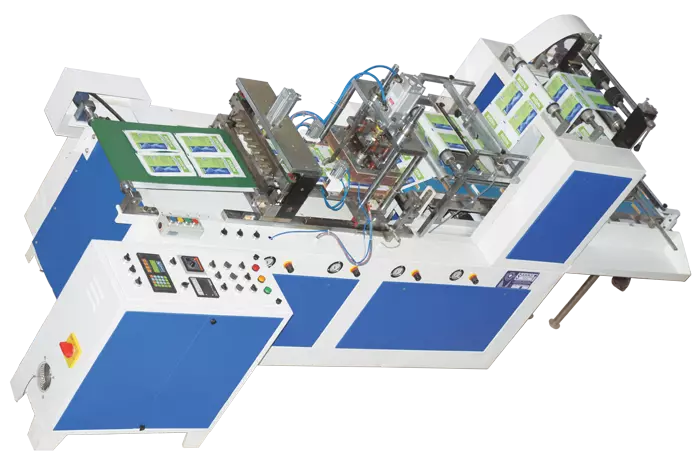 TECHNICAL SPECIFICATION
SURGICAL GLOVES PACKING MACHINE


NUMBER OF STATION [ CUTTING ]
ONE
NUMBER OF STATION [SEALING]
ONE
NUMBER OF STATION [ PRESSING]
INBUILT WITH SEALING
NUMBER OF UNWINDER [FOR ROLL]
TWO- FOR ROLL MOUNTING
NUMBER OF CONVEYOR TRACK
SINGLE TRACK
MINIMUM ROLL WIDTH
120 MM
MAXIMUM ROLL WIDTH
260 MM
MACHINE LENGTH
4550 MM [APROX]
MACHINE WIDTH
990 MM [APROX]
MACHINE HEIGHT
1870 MM [APROX]
MAXIMUM MACHINE SPEED
25-35 PKTS/MIN.
MAIN DRIVE
SERVO DRIVEN
UNWIND DRIVE
SYNCHRONISED TO MAIN DRIVE
SEALER & PRESSING FUNCTION
PNEUMATIC
CUTTER FUNCTION
PNEUMATIC
MACHINE COLOR
VIP BLUE & SWAN WHITE
WEIGHT OF MACHINE
850 KGS [APPROX]
SERVO MOTOR
7.15 NM
UNWIND MOTOR
0.5 H.P. [02 NOS.]
ELECTRICAL LOAD
6.8 KW.[APROX]
[ * ] Optional Attachment
ON LINE PRINTING FOR BATCH/ PKD/ PROD CODE.

FEATURES
• Precise die sealing
• Conveyor feed
• Easy operation
• Robust design and cost effective
• High speed servo design
• Combined dressing can be packed
• Batch coding attachment *
• Double web top-bottom registration *
• Double-up packing *
• Touch screen interface for easy operation
• High performance advance PLC control
• Web aligner system *
• Automatic tension control for unwinding side *