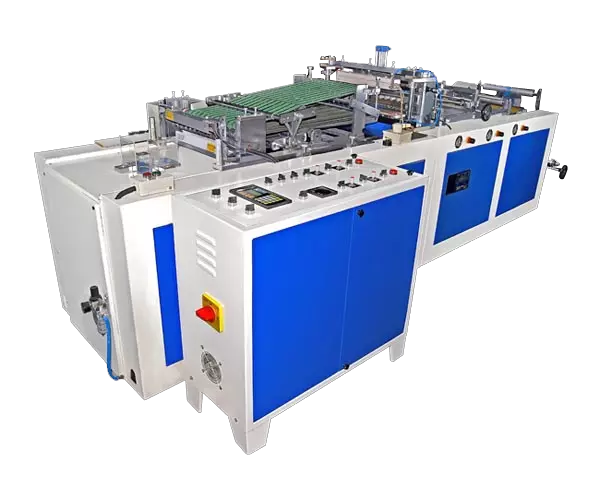 TECHNICAL SPECIFICATION
'U' CUT PVC POUCH MACHINE


MINIMUM WEB WIDTH
50 MM
MAXIMUM WEB WIDTH
305 MM
MINIMUM LABEL SIZE POUCH SIZE
LENGTH 80 MM X WIDTH 50 MM 125MM X WIDTH 50MM
MAXIMUM POUCH SIZE
950 MM X 300MM
MAXIMUM WEB SIZE
300 MM
MAXIMUM MACHINE SPEED
90-100 PCS/MIN (FOR 200 MM LENGTH)
MAIN DRIVE
ONE COMMON MOTOR With GEARBOX
UNWIND DRIVE
SYNCHRONISED TO MAIN DRIVE
PERFORATION FUNCTION
PNEUMATIC * OPTIONAL
CUTTER FUNCTION
PNEUMATIC
MACHINE COLOR
VIP BLUE & SWAN WHITE
WEIGHT OF MACHINE
1000 KGS. [APPROX]
MAIN MOTOR
2.0 HP.
SERVO MOTOR
7.15 NM/ 1500 WATT.
SEALING STN :
ONE
CONVEYOR MOTOR (GEARED)
0.5 H.P. 01 NO.
U/W MOTOR (GEARED)
0.5 H.P. 01 NO.
HEATER
2.25 K.W.

FEATURES
• Servo driven high speed
• Precise sealing
• Integrated heating shape for various jobs
• Touch screen interface for easy operation
• High performance advance PLC control